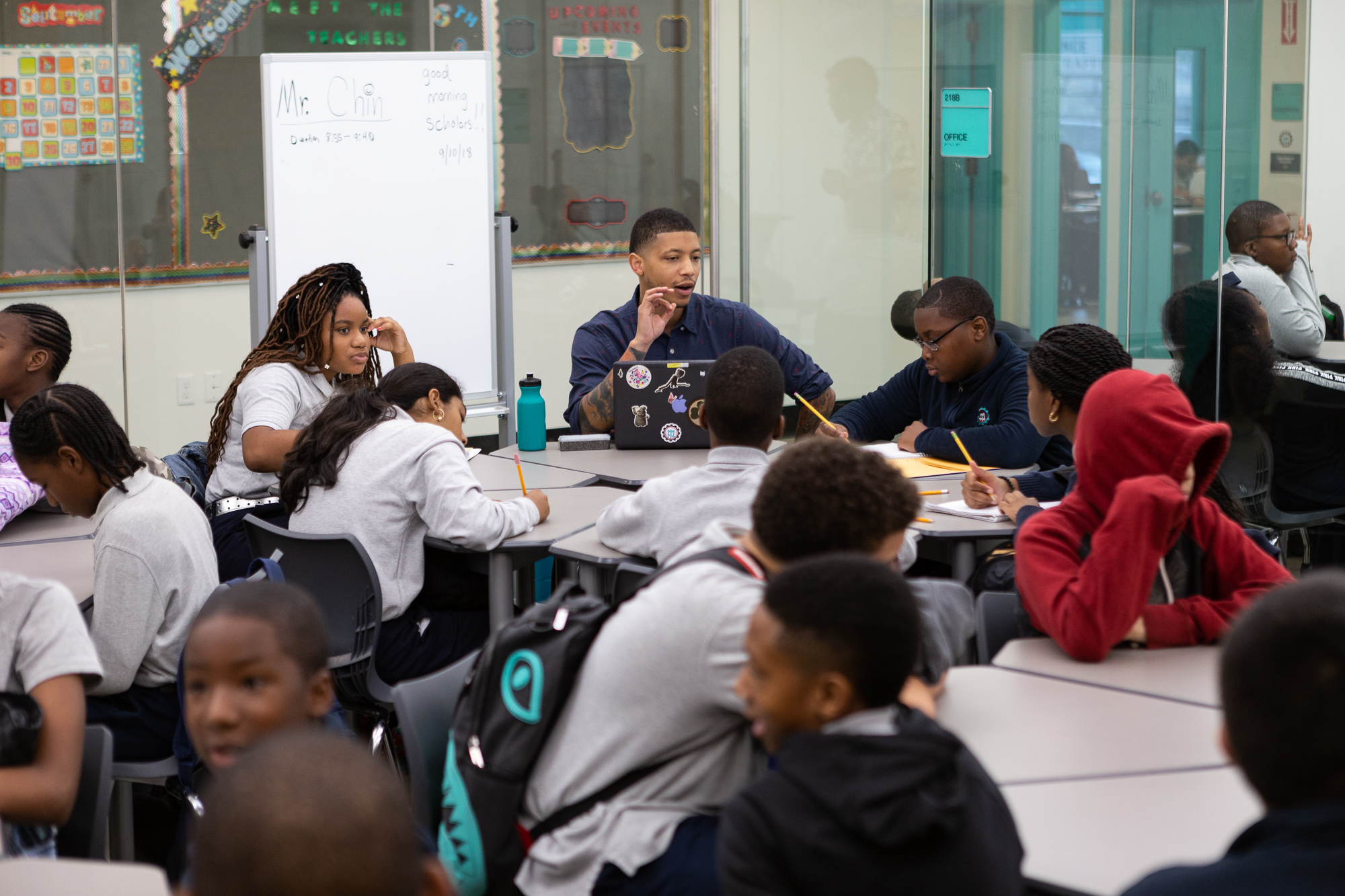 LAB Corps Fellowship FAQs
Where will I work?
LAB Corps Fellows work at one of two Brooklyn LAB campuses, both located in downtown Brooklyn, NY. The campuses are located within the Brooklyn Tech Triangle, which hosts 12 universities and 57,000 college students annually.
What kind of training do Fellows receive?
We host a four-week summer academy for all Fellows prior to the first day of school. Fellows receive training in effective instructional strategies, school culture, behavior management, administering formative assessments, using student achievement data to personalize instruction, collaborating with teachers, and communicating with families. Some of this training will take place with LAB's teachers, and some will be specifically for Fellows. Additionally, Fellows participate in ongoing professional development throughout the school year on Wednesday afternoons after scholars are dismissed at 1:15pm. Fellows will be observed and coached by academic faculty and LAB leadership throughout the year.
Who are the students tutored by Fellows?
All middle school students enrolled at LAB receive small group instruction from Fellows in content areas of math and literacy. LAB is particularly focused on meeting the needs of students with disabilities and students behind grade level. Fellows also work with the general student population, including students above grade level, to ensure that the academic program pushes and challenges all scholars.
What does a typical day look like for Fellows?
Fellows arrive at school at 8:10 am and meet briefly with the campus leaders and coaches to go over morning announcements and any last minute changes or reminders for the day. They will then have time to prepare for the day and/or collaborate with content or grade level teams. Fellows will then go to their homerooms and facilitate homeroom alongside a teacher. After homeroom, Fellows will break out to their pre-determined tutoring groups, and will conduct four, ~one-hour periods of small group instruction throughout the day with a break for lunch and prep/collaboration periods. Fellows may also support lunch and recess duty on a rotating schedule. Deans and other instructional leadership work with Fellows to determine lesson plans and groupings for small group instruction. Fellows may work 1:1 with students or in small groups.The workday for Fellows ends at 3:45pm on Mon/Tues/Thurs/Fri and at 4:50pm on Wednesday. Many Fellows also apply for instructional positions in InnovateEDU's afterschool program, which serves Brooklyn LAB scholars from 3:45 to 5:30pm. These positions include leading enrichment courses focused on STEM (e.g.: Robotics, Coding), leadership (e.g.: Debate, Student Government), athletics (e.g.: Basketball, STEP), or arts (e.g. Dance, Visual Arts, Film Production). Leading enrichment involves additional compensation and job responsibilities. More details about this will be shared during training.
Where do Fellows live?
While we do not provide housing, housing resources will be presented as part of the resources package that Fellows receive prior to the start of the Fellowship. The packet includes information about living in New York City, teaching materials, and on-boarding resources.
Do I have to make my own lesson plans?
Each lesson will be provided or developed in collaboration with a teacher. However, it is the responsibility of each Fellow to modify each lesson based on the strengths and weaknesses of the students in his/her groups. Fellows will receive in-depth training on how to use data to modify and improve instruction, and will have support from teachers, content leads, and the Deans of the LAB Corps.
Who will give me feedback and support me throughout the year?
The Deans of the LAB Corps will give each Fellow regular and ongoing feedback throughout the entire year, in addition to informal feedback provided by teachers and content leads.
What assistance is available for federal school loan repayment?
Fellows interested in a continuing a career in teaching or public service may be eligible for Public Service Loan Forgiveness. Under this program, borrowers may qualify for forgiveness of the remaining balance of their Direct Loans after they have made 120 qualifying payments on those loans while employed full time by certain public service employers. Though InnovateEDU does provide training and some technical assistance to help Fellows in this process, participation in this program is determined by your loan provider and Fellows should contact their loan provider directly with questions. Some Direct Loan Providers provide loan cancellation for Federal Perkins loans. Please contact your loan provider to see if this program is available.
What are the benefits? How much is the living stipend?
Each Fellow will receive a modest living stipend of $15,500 for 11 months of service. Additionally, Fellows receive a food allowance for each work day. InnovateEDU also offers a pre-tax commuter benefit to Fellows via TransitChek. LAB provides Fellows with a work computer and all materials needed for classroom instruction. Fellows may also have the opportunity to lead enrichment classes in InnovateEDU's afterschool program if they are interested, focused on STEM (e.g.: Robotics, Coding), leadership (e.g.: Debate, Student Government), athletics (e.g.: Basketball, Soccer), or arts (e.g. Dance, Theater, Visual Arts, Film Production). More details about this will be shared during training.
What is the LAB Teacher Residency?
In the spring of each school year, LAB Corps Fellows interested in pursuing teaching as a career may apply for the LAB Teacher Residency, which would begin after their first year of service. Brooklyn Laboratory Charter School reviews applications in this competitive process and selects Fellows for the LAB Teacher Residency. One benefit of this program is that the school will pay full tuition for selected Teacher Residents to earn their Teaching Certification (Transitional B, grades 6-12) and a Master's degree, offered in conjunction with Relay Graduate School of Education. Teacher Residents will teach classes while pursuing their degree.